Glorifying God by growing daily to go make disciples
Welcome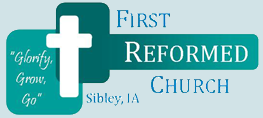 Welcome to our home! We are honored to have you as our guest. We invite you to dig deep into our website and look into all the opportunities we have to offer. We strive to be a warm, welcoming place for you to glorify God by growing daily to go make disciples. If you have any questions about First Reformed Church, please don't hesitate to contact our pastor. Thank you for visiting our website. We pray God's blessings for you and your family.
If you would like prayer, we would be honored to pray for you. Please click here to be taken to our prayer requests page.
Connect
We like to think of ourselves as a family. We realize the importance of connecting with other believers and want you to feel at home from the moment you walk into our doors, no matter what day of the week it is. There are many opportunities for you to connect with others and to develop friendships that could last a lifetime. Make sure to check out all of our latest offerings and we look forward to connecting with you and experiencing God together in an exciting way.
Sermons
Our sermons aim to challenge and equip you in your relationship with Jesus. We know your time is valuable so our sermons get straight to the point and are easy to understand. If you ever would like to talk about a sermon you heard at First Reformed Church please let us know.
Events
We are not a church that simply puts on events because there is an empty space in the calendar. Each of our events has a purpose; all of which aim to glorify God and teach us something about Him. This doesn't mean that we don't have any fun because we most certainly do. We invite you to check out an event to see for yourself how much fun we really have at First Reformed.
We have plenty of opportunities and events in which you can connect. Check out our calendar for everything that is happening at First Reformed Church.
Ministries
Our mission of "glorifying God by growing daily to make disciples" is best reflected in our ministries. Each ministry is specially designed to reach a significant population in our church. We know that different age groups need to hear about God according to their age level and that not everyone has the same learning style so we strive to use different teaching styles and methods in order to best communicate God's truth. Check out our ministry section to learn more.